Join us for an incredible 7 Night Deluxe Cruise of Croatia, Dubrovnik to Split, on the MS Adris, July 13 thru July 20, 2024!
FOR COMPLETE DETAILS, CLICK FOR PDF
---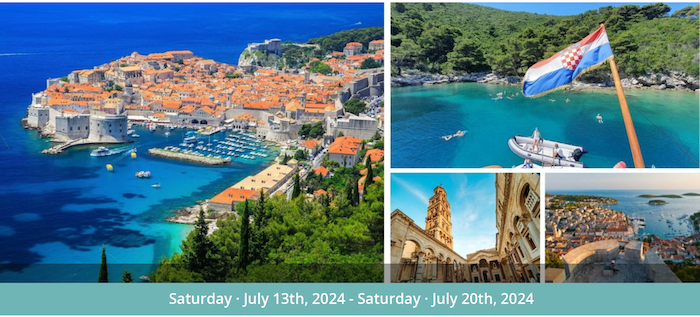 ---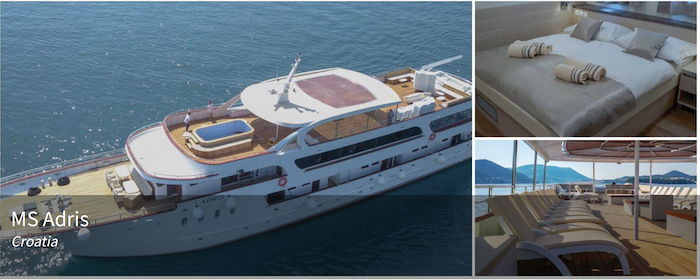 ---
MS Adris is a 50m (164 ft) long, 8.8m (28 ft) wide cruise ship, with a cruising speed of 8.5 nautical miles per hour. The ship launched in 2018 and features the latest equipment and amenities. The ship has a maximum capacity of 38 passengers in 19 twin or double cabins, ensuring exceptional personal service.
The ship features 19 modern air-conditioned cabins with 9 Lower Deck and 10 Main deck cabins. Each measures approximately 12 to 19m2.
The MS Adris boasts inviting shared spaces, including a spacious living/dining room with panoramic windows, a lounge area, a well-stocked bar, and an LCD TV. An outdoor terrace with plush furniture and a removable tarpaulin offers a perfect setting for relaxation. A vast top deck sun terrace features sunbeds, a small pool, and shaded areas. The boat also provides a platform with ladders and showers for refreshing swims. Public toilets are conveniently available, and complimentary Wi-Fi ensures connectivity. Guests can enjoy comfort, entertainment, and the scenic surroundings aboard the boat.
---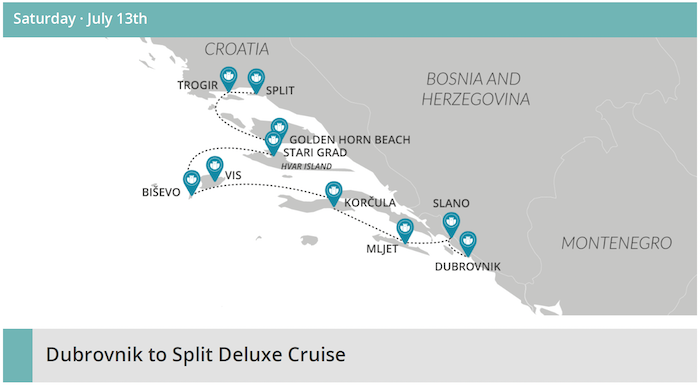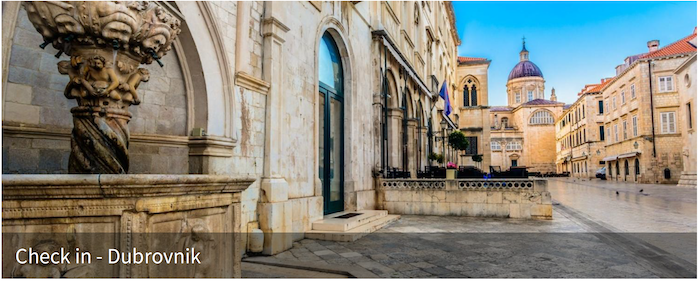 ---
You will be met by your driver and transferred to Gruz Harbour where you will board your ship, check in is from 1400hrs. You can relax in your luxury cabin before joining a guided tour of the UNESCO listed Old Town of Dubrovnik. Dubrovnik has an abundance of ancient historical buildings that date back to the time of the old Dubrovnik Republic. After admiring the classic Renaissance architecture you will return to the boat and enjoy the evening with a three course welcome dinner and speech from the crew where they will go through the plan for your week on board.
---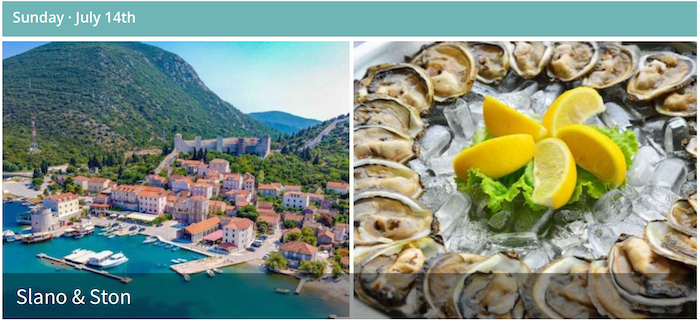 ---
Sunday, we will sail to the charming village of Slano, situated on the mainland. You can relax and enjoy the stunning scenery, as we cruise around Dubrovnik's city walls before heading in the direction of the Elaphiti islands for a swim stop. Afternoon arrival in charming Slano, this traditional fisherman's village was once fortified and is famous for its oysters. From Slano we head towards Ston a sought after seaside town which is known for its oyster production. You will take a small boat out into the middle of the estuary and enjoy sampling fresh oysters directly from the sea with a dash of lime and some locally produced wine. This very unique experience is one of our clients favorites! Return to Slano after the oyster tasting for the captain's dinner.
---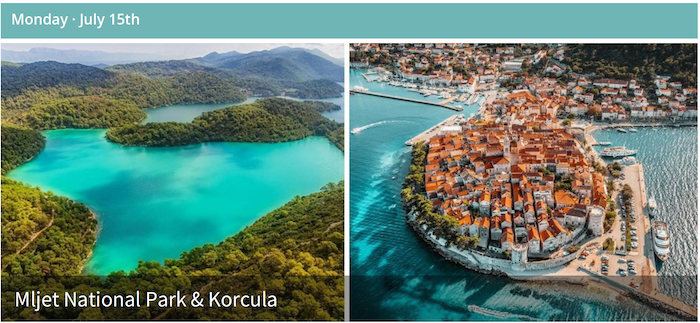 ---
Monday, we depart early to visit the tranquil and stunning Mljet National Park. On arrival, our cruise director will take you for a stroll to visit the famous salt lakes, situated in the heart of the park. We then sail on to the island of Korula, which is best known as the birthplace of the famous explorer Marco Polo. Relax and admire the stunning secluded bays on route. We will have a guided walking tour of the charming Old Town. The picturesque fortified town, ruled by Venetians in the past, has an ingenious layout in the shape of a fishbone.
---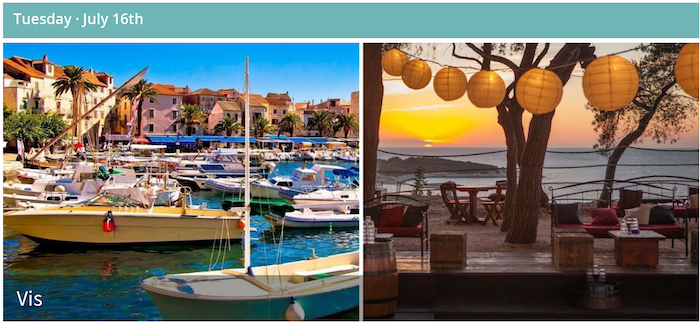 ---
Tuesday, we depart from Korcula and sail on towards the peaceful island of Vis enjoying an extended swim stop on route. Vis was once a strategic Yugoslav naval base and off limits to visitors. Due to the island's seclusion and isolation, Vis has retained a very unique charm that typifies 'the Mediterranean as it once was'. Enjoy the afternoon at leisure exploring the picturesque town of Vis with its charming sea front cafes and labyrinth of quaint streets. If you are feeling energetic take a walk up to Fort George which enjoys breath taking views
---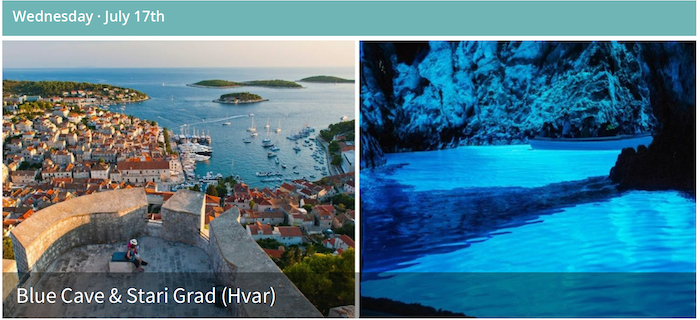 ---
Wednesday, we continue to the stunning island of Hvar which is renowned for its stunning and fragrant fields of lavender fields. On route, we stop at Bisevo Island to explore the breath-taking Blue Cave. This is truly a natural marvel, a sea grotto of illuminated light. Enjoy a guided boat tour within the cave to experience this beautiful phenomenon. Please note that entry to the Blue Cave is subject to weather and sea conditions and therefore the entry fee of EUR25pp is payable on the day. After exploring the Blue Cave and enjoying a delicious lunch on board, we continue to the peaceful port of Stari Grad in Hvar. On arrival, enjoy a wine tasting tour at a very sought-after family winery, followed by free time to explore the beautiful town of Hvar at your leisure. You can choose to remain in Hvar Town which is known for its vibrant restaurant and nightlife scene or return to Stari Grad and enjoy a more tranquil alfresco dining experience.
---
---
The charming medieval town of Trogir is our next destination. This UNESCO listed gem with its pristine marina is often compared to a mini-Venice. On route though we have a very special swim stop planned at one of the most famous beaches in the world, the gorgeous Zlatni Rat (Golden Horn Beach). We will arrive in Trogir after lunch with free time to explore the labyrinth of backstreets and medieval alleyways in this hidden gem. This evening, enjoy dinner on your own in one of Trogir's superb selection of family run restaurants. Afterwards we suggest taking a stroll along the marina and soaking up the wonderful atmosphere.
---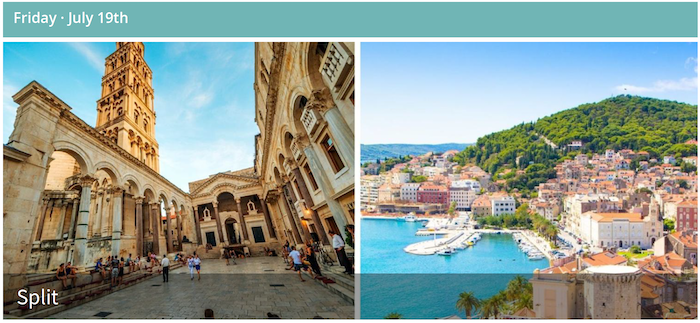 ---
On the final day of your cruise, we make an early departure from the old medieval town of Trogir and head towards Split. On route you will enjoy a refreshing morning swim stop prior to arriving at your final destination. You will arrive in Split harbour shortly after lunch and set off for a guided walking tour of the beautiful Old Town. Split is listed as a UNESCO World Heritage site and boasts an abundance of classic Roman architecture, which includes the splendid Diocletian Palace. Our expert local guide will take you on a fascinating tour of this wonderfully preserved Old Town. After the tour, you will have free time to explore the famous Riva Promenade at your leisure. This evening you can sample the excellent restaurants in the Old Town on your final evening.
---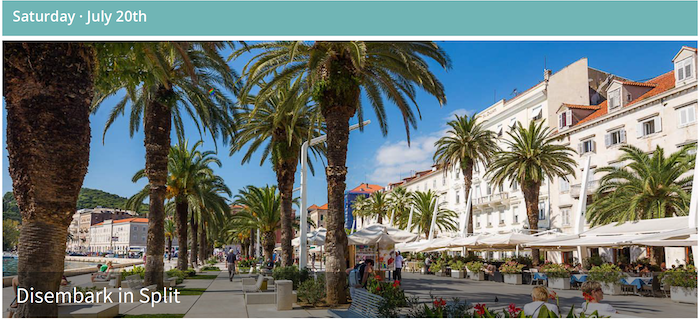 ---
CONTACT US FOR BOOKING INFO
760-250-1977
---